Budget 2016 – A road map
DOWNLOAD BUDGET 2016 – AN INSIGHT
Last evening, Federal Finance Minister Ishaq Dar announced the Budget for the upcoming year and it was not all that different from the previous budgets announced by by Mr. Dar.
To capitalize on the growth of Pakistan's economy, which is growing at its quickest rate in eight years after a slide in oil prices and expansion in industry and services boosted demand, the govermment is targeting a 16 percent rise in tax revenues in the year ending June 2017 and it aims to do so by expanding the tax net and increasing the rate of tax on already existing tax payers.
The government has clearly defined its objective of penalizing non-filers and thereby provide a disincentive to a non-filer to remain a non-filer.
Approximately 38 percent of next year's budget will be used for Public Sector Development Plans (PSDP). This is split almost equally between federal and provincial development projects.  Somehow, Ishaq Dar's ministry has been able to conjure a way to balance a reduction in budget deficit with increased spending on development and welfare
The Finance Minister raised the prospect of $40 billion in the CPEC investment next year however none of the money seemed to have been factored for in the budget.
Amongst the other significant figures was an 11 percent increase in the defence budget – from Rs776 billion to Rs860 billion – within the year.
With a view to accelerating industrial investment in the country, the budget proposes concessions in the form of 'tax credits'. Various rates of tax credits have been proposed for enhancing employment generation, making sales to registered persons, for balancing, modernisation and replacement (BMR) of plant machinery and equipment establishing new industrial units and expansion of existing plants or new projects. However, with the introduction of "Alternate Corporate Tax" in the finance act 2015 that taxes corporate earning net of all credits at 17 percent, the offering of tax credits will have a very limited effect and may not yield the desired results.
Among the notable omissions is a total silence on the privatisation of state-owned enterprises to stem the haemorrhaging from the budget and an expected scheme for declaration of overseas assets of resident citizens.
With the PML-N Government entering the tail end of its tenure in power, the 2016/17 Budget was not expected to deliver major change, but has delivered more than many thought we would see.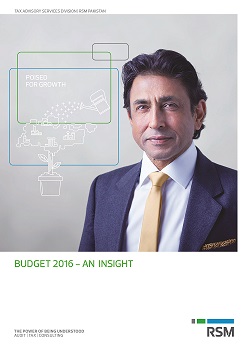 DOWNLOAD BUDGET 2016 – AN INSIGHT